Internet Kiosk
By KIOSK
The Internet kiosk is a mainstay of the kiosk industry. KIOSK is the most experienced Internet Kiosk provider in North America. Internet kiosks come with many options but often include Web Surfing, Email, Wi-Fi, Bluetooth, Ringtones and more.
Internet Kiosk products KIOSK provides include:
Stubby Internet -- this is among the lowest cost internet kiosks available for use in the pay-for-use public internet market.
The Stealth -- Within a small footprint and tapered figure, the Stealth is a fully functional web kiosk able to house up to a 15" LCD, a receipt or wide thermal printer as well as a credit card reader and Mini PC.
Also visit our Standard Kiosks page for a full listing of standard internet kiosk and web kiosks.
Shibby -- see in our Internet Vending section
Our Custom Kiosk section shows many of the custom kiosks we have done.
Kiosk Keyboard: KIOSK kiosks normally come with our KIOSK keyboard which provides switchable controls which let you disable or enable certain control and alt key combinations to help control the terminal desktop.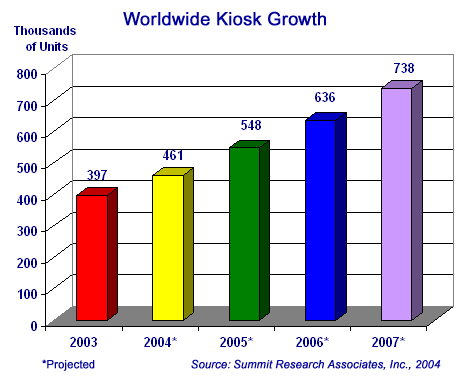 2004: Summit Research Report -- Did you know that the average number of users for a kiosk rose to almost 100 a day in 2003? Did you know that KIOSK is the major provider for the industry? Read it in Summit Research's latest report

More Resources
Summit Research Comments -- Excerpt: Public Internet Kiosks, Public Access Terminals, Internet phones, Public Internet Systems, Web Payphones, Web Access Device, Public Access Kiosks, Multimedia phones, WebPhones, Public Internet Terminals, Interactive phones....the names are endless. They refer to devices that allow the public to surf the Web; access their e-mail; log on to their AOL, CompuServe, Prodigy or MSN accounts; or access their favorite business, weather, news, sports, entertainment, or retail sites. The connection is either borne by the customer, at rates averaging $.25-.30 per minute, or by the advertiser who provides free minutes of connect time in exchange for banner ads or by requiring the customer to fill in a survey whose results are then passed to the advertisers..
Internet kiosk mode: Setting Internet Explorer to kiosk mode is easy, however it is not the all inclusive panacea that it can be hoped that it is. To start Internet Explorer in Kiosk mode, click Start, click Run, type the following command in the Open box, and then click OK ( iexplore -k page ).

The KIOSK kiosk keyboards support disabling common desktop control key combinations. Right clicks and other access methods are not disabled but can be via javascript. Regulating URLs displayed and opening new windows will require changes to the registry. At this point you are much better off using an off-the-shelf program from one of our software partners such as Sitekiosk or Netstop.

Linux Tutorial on running KDE in Kiosk Mode